Pouch Machine
Our pouch machines are ideal for making small or medium size pouches. Depending on your product or requirement, it can fill powder, liquid or tablets/capsules.
Images
How does it work?
The pouch machine makes the pouches from a roll of film. The roll is loaded on the machine and then fed through a series of supporting rollers. The machine folds the film in half and then seals the sides of the pouch. After this the pouches are cut to individual pieces and opened for filling. The feeding/dosing system fills each pouch, after which each pouch is sealed.
Dosing system: powder, liquid, tablets/capsules
We can supply the pouch machine with the dosing system for your specific product. The standard setup includes a powder/granule dosing unit, but in case of a liquid product, we replace it with a liquid filling system. If you want to pack tablets or capsules, we can supply the machine with a special tablet dosing system.

You can order the machine with more than 1 type of filling system, so that you could fill powder and liquid products on it as well.
Specifications, options
Minimum / maximum pouch size

60 x 70 mm / 140 x 180 mm

Maximum mechnical speed

60 pouches / min.

3 or 4 side sealing

Precise, accurate filling options

Powder, granule dosing system

Liquid filling system

Tablet / capsule dosing system

Touchscreen operation

Simple to adjust

Robust design
Video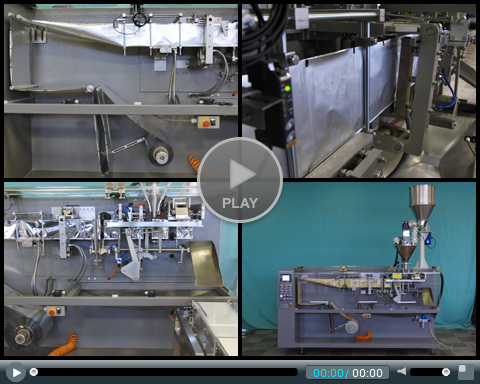 Complete Packaging Lines

Filling and Dosing Machines

Pouch and Bag Forming Machines

Semi-automatic Machines

Closing and Labeling Machines

Supporting Machines

Quality Verification

Other Machines, Accessories