Multihead Weigher
AMSY's multihead weighing system is used for dosing long leaf tea, rice, chips, granules, tablets, irregular shaped products, candy, chocolate, frozen food items, small metal/plastic parts with high speed and accuracy. For lower speed applications we offer 4 lane linear weigher, and for higher speed applications you can choose from 10 or 14 head multihead weighers.
Complete System
Our multihead weighers can be used as a standalone filling solution. With a foot pedal you can have a semi-automatic filling solutions for filling pouches, small or large containers, buckets, etc. By adding a conveyor, we can also build an automatic system for your containers. The multihead weigher can also be integrated with our pouch filling machines for a complete HFFS or VFFS solution.
Speed
Production speed depends on the type of product and the filling weight.
4 head linear weigher: up to 30-40 BPM
10 head multihead weigher: up to 80 BPM
14 head multihead weigher: up to 120 BPM
Features, options, advantages
Precise, accurate weighing and dosing

Quick and simple changeovers

changeovers are fast, just the filling weight and you are set;

Touchscreen display

all production parameters are adjustable on a large touchscreen display;

Product memory

saving production memory;

Stainless Steel Design

Dimple plate

for filling sticky, hard flowing materials;

Easy cleaning

all contact parts are quickly removable and easy to clean;

Product level sensor

which can be combined with a product hopper/elevator for automatic product feeding;

Production statistics
Images
Video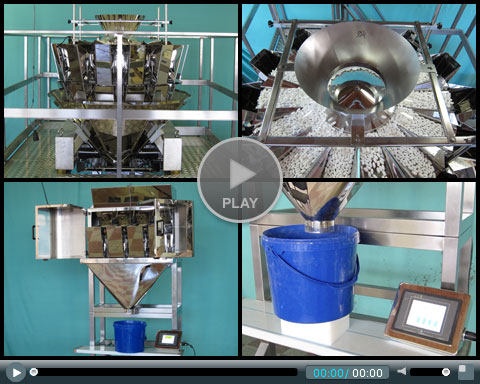 Complete Packaging Lines

Filling and Dosing Machines

Pouch and Bag Forming Machines

Semi-automatic Machines

Closing and Labeling Machines

Supporting Machines

Quality Verification

Other Machines, Accessories