Tabletop Tablet Counter
AMSY's tabletop tablet counter was designed for smaller startup companies with tablet-based products who don't (yet) need high speed systems, but need a simple and reliable solution to count tablets into containers.

Our tablet counter is easy set up and operate, simple to maintain and it is economical.
Operation
The machine's operation is simple. Just set the number of tablets you would to count into the containers, then place bottles under each outlets and press start.

The machine will start counting tablets into the bottles. When counting into one bottle finishes, the equipment switches over to the other bottle. This leaves time for the operator to manually change the filled containers for new, empty ones.
GMP standards
The tabletop tablet counter might have an economical price, but it features all the industrial standards as the higher end models. The machine is built on a stainless steel frame. All contact parts are pharmaceutical grade materials meeting GMP requirements.
Approximate tablet and capsule counting speeds
Tablet ø 5 mm: up to 160.000 tablets/hour
Tablet ø 8 mm: up to 110.000 tablets/hour
Tablet ø 10 mm: up to 90.000 tablets/hour
Capsule #0: up to 45.000 capsules/hour
Capsule #1: up to 50.000 capsules/hour
Capsule #4: up to 70.000 capsules/hour
Images
Sample Product Images
Video: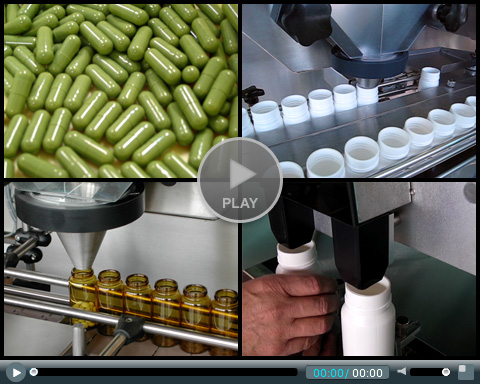 Complete Packaging Lines

Filling and Dosing Machines

Pouch and Bag Forming Machines

Semi-automatic Machines

Closing and Labeling Machines

Supporting Machines

Quality Verification

Other Machines, Accessories