EC 12/T: Tea Bag Machine with Pillow Bag Packing
EC 12/T is the extended tea bagging machine model which produces up to 120 tea bags per minute with string and tags attached, packed into a pillow bag. The quantity of filter tea bags into each pillow bag is adjustable.

The tea is filled into a single chamber tea bag. The bag itself is formed from heat-sealable filter paper. Simultaneously tags are attached to the thread, while the other end of the thread is attached to the filter bag without the use of any staples or glue. The thread is then wound around the tea bags.

The machine forms a pillow bag from the roll of film and then counts a preset number of filter tea bags into the pillow bag.

This packaging is ideal for cost-sensitive markets.
Images
Features and advantages
High Performance

the EC 12/T will output 120 teabags/minute;

Reliability

the EC 12 Series tea bagging machinery has a long, stable development base, which will ensure high reliability and minimal downtime;

Simplicity

the operation of our equipment is simple and is also quick to learn;

Economic to Operate

it is one of the most un-expensive tea bagging machines in the market;

One operator

one operator can operate the tea packer;

Accessories to ease your work

you can add conveyors, pneumatic feeders, spiral-tube feeders, auger fillers and weight scales and even custom built equipment to ease your production and to make it more efficient;
Video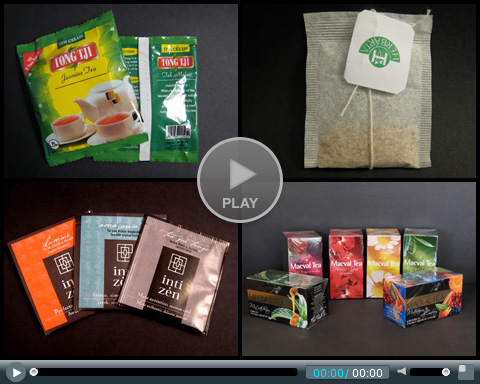 Service, technical support
AMSY provides full service and technical support for all of its equipment.
Complete Packaging Lines

Filling and Dosing Machines

Pouch and Bag Forming Machines

Semi-automatic Machines

Closing and Labeling Machines

Supporting Machines

Quality Verification

Other Machines, Accessories